Information helps!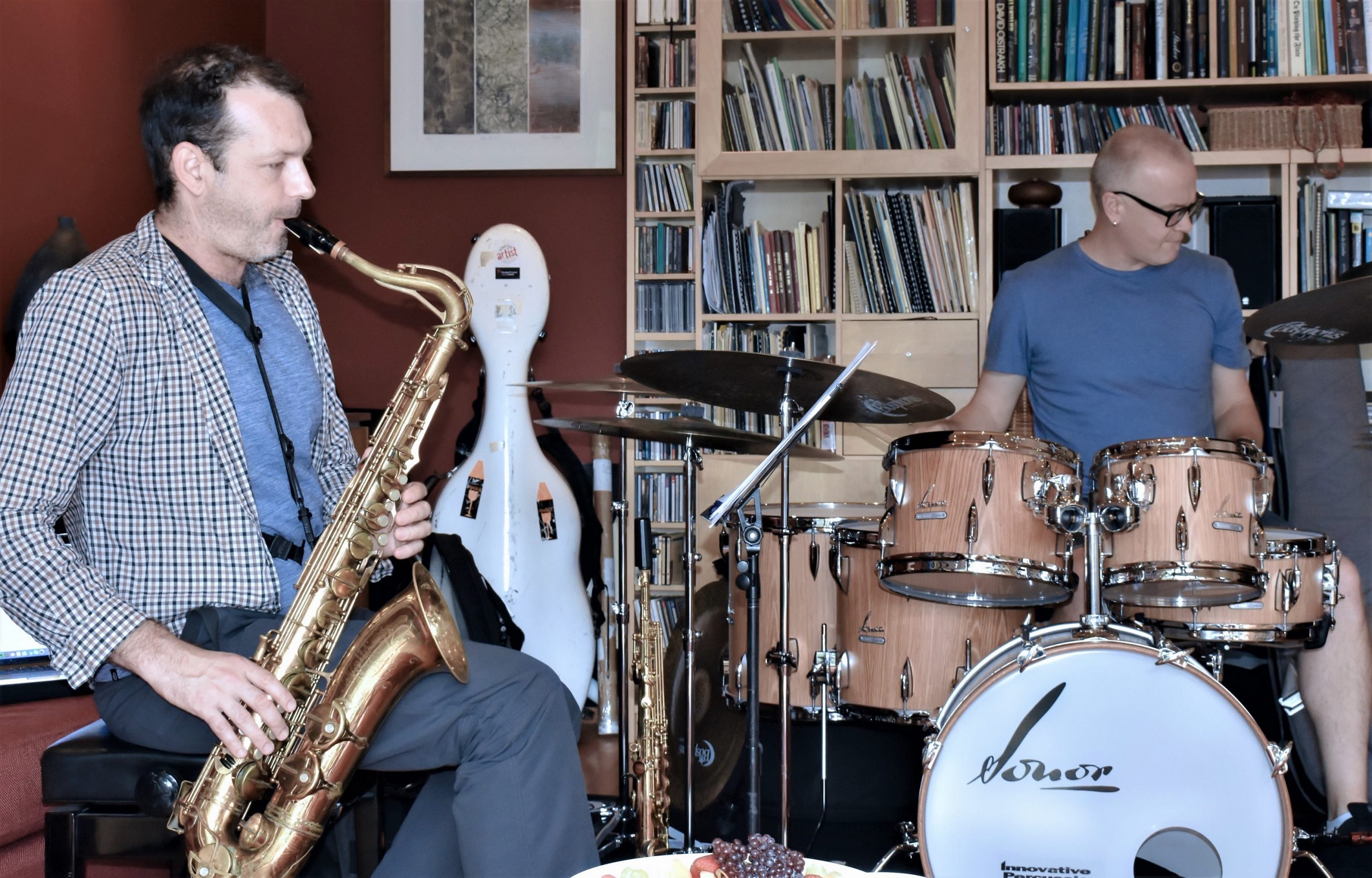 I don't intend to flood everyone with information over the coming week but I did want to update you on where we and the Australian music sector are up to.
Finishing off our new Elysian Fields' CD – FIKA
It does not make economic sense, but for artistic reasons, we have decided to complete our FIKA recording. We are artists so we have to keep on making art!
Along with the musicians in the band, I am so thankful to Matt Keegan for leading this project and to Richard Belkner, for the use of his recording studio and for his unique sound engineering skills. The music will all be from Scandinavia or inspired by Scandinavia. That's my roots, my grandfather came to Australia from Stockholm in the 1920s. Composers/arrangers represented include Jan Gunnar Hoff, Matt McMahon, Matt Keegan, Susie Bishop, Siebe Pogson and myself. Watch this space. (The photo below is of Elysian Fields after finishing our recording sessions. And yes, it was pre social distancing!)
Getting through the crisis with wonderful new viola da gamba recordings
Although the live performance sector has ceased operation – my next 2-3 months of concert have all been cancelled – the are some great new recordings out. Did you know that Handel wrote for the viola da gamba? Ibrahim Aziz, a very fine viola da gambist who's visited Australia, has a CD out of Handel works for viola da gamba and harpsichord. His first CD was top notch, I love it. You can order the Handel here https://firsthandrecords.com/products-page/album/handel-works-for-viola-da-gamba-and-harpsichord/
My colleague and friend Shaun Ng also has a new recording to his credit. It consists of viol music by John Christian and Carl Friedrich Bach Abel with Diana Weston appearing on square piano and harpsichord. This music is quite late, in the transition period between the baroque and classical eras. I've heard an advance copy and its great listening. You can purchase here https://www.australiancomposers.com.au/products/bach-abel-cd
Streaming options to fill your home office with music
The music streaming industry business model still does not pay independent artists very well (see Andrew Ford's comment below) but it's better than nothing. I've curated a number of Play Lists up on Spotify already. Some examples follow. My playlists typically include a broad range of artists:-
Helping out musicians
There are so people in our community who are, or soon will be, in need. I recognise that musicians are only on such bunch of people. Composer, author and ABC broadcaster Andrew Ford of The Music Show fame has come up with several suggestions as to how to support musicians. I include them below:
"First, if you've been offered a refund on a ticket for a cancelled gig or a festival pass you could refuse it. You could say keep the ticket; use the money to pay your rent, pay a colleague, buy groceries. And you might consider a donation to the charity, Support Act, https://supportact.org.au/ which provides crisis relief to musicians and other in the business. Because it's not just musicians we should worry about, but all the tech crews who support them. Now they need our support.

Then, perhaps it's time we all started buying music again. Buy tracks, buy an album. Streaming services don't pay musicians properly, but you can. An album a week? An album a month? If every Music Show listener bought one album a month, it would make a huge difference. A download or a CD – or some of that newfangled vinyl. You'll appreciate the music more if you've paid for it. Go on. Go online and find it. And buy local – not to be jingoistic, but neighbourly.

Speaking of paying for music, have you ever thought of commissioning some? Commissions don't have to be for symphonies, and they don't have to be expensive. Do you play an instrument? Commission a composer to write for you. Do you have a favourite singer-songwriter? Pay them to write a song. Or record a song. Or just get in touch with a musician, make them an offer, and ask them what they'd like to do.

And finally, speaking of getting in touch, even if you don't have a cent to spare you can still offer your support. I bet you've been to a show or heard a song that had an impact on you – a favourite album, say. And it crossed your mind to send a fan letter, but you didn't get round to it or you were shy or you didn't know where to write. This is the moment to do it. It's not hard to track down musicians – we all have websites. An email of appreciation won't pay a musician's rent, but it might help convince them to keep going.

Please reach out as you can." (Andrew Ford)
Thanks for your time. Take care and all my love and best wishes to you, your family and loved ones.
Jenny Eriksson
Artistic Director, The Marais Project, Elysian Fields and Da Vinci's Apprentice
24 March 2020
Your Title Goes Here
Your content goes here. Edit or remove this text inline or in the module Content settings. You can also style every aspect of this content in the module Design settings and even apply custom CSS to this text in the module Advanced settings.