Elysian Fields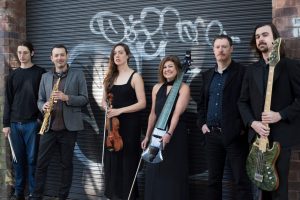 Elysian Fields is one of the world's few electric viola da gamba ensembles. It was formed by Jenny Eriksson, Matt Keegan and Matt McMahon in 2015. In late 2018, we released our first CD, "What should I say", on the MOVE Records label.
The band is an ongoing experiment in creating new improvised and composed repertoire for the electric viola da gamba – of which Eriksson is believed to be the only Australian exponent. The backbone of Elysian Field's set list consists of original works written specifically for the line-up by Matt McMahon, Matt Keegan, Jenny Eriksson and bassist, Siebe Pogson. The band's covers range widely from Eriksson's unique arrangements of several songs by Marin Marais to charts and folk songs reflecting Jenny's Scandinavian heritage from the likes of Swedish jazz/fusion guitarist, Mats Norrefalk, e.s.t. and Norwegian pianist/composer, Jan Gunnar Hoff.
Elysian Field's influences are as broad as its member's eclectic interests. We love: e.s.t., Herbie Hancock, Jaco Pastorius, Tord Gustavson, Victor Wooten, Mats Norrefalk, Jean-Luc Ponty, Weather Report, Mara!, Irish, Indian and Swedish folk song, Jordi Savall, Marin Marais, John McLaughlin, Steve Hunter, Pat Metheny, Jan Gunnar Hoff and Joni Mitchell.
Key achievements
2015 – Elysian Fields appeared live on Radio National's "The Music Show" and were interviewed by host, Andrew Ford
January 2017 – Elysian Fields performed alongside Eriksson's acoustic viola da gamba band, "The Marais Project" in the first gig of its kind in Australia where acoustic and electric viola da gamba ensembles appeared on the same program
May 2017 – the band were guest artists at the "Vivid New Music at the Con" series curated by Dr Damien Ricketson
September 2017 – recorded our first CD
November 2017 – Sydney International Women's Jazz Festival
Noted in the Sydney Morning Herald, January 2018, as one of critic John Shand's 2017 "surprise packets"
January 2018 – appeared with early music gurus "The Marais Project" in a joint performance titled "My Heart So Grieves" which explored music and poetry of the 16th century using the acoustic and electric viola da gambas
May 2018 – launched "The Scandinavian Project", music from, and inspired by, Sweden and Norway
November 2018 – release of "What should I say", Australia's first electric viola da gamba CD. Featuring all new music by Matt Keegan, Matt McMahon and Siebe Pogson
July 2019 – live at The Blue Mountains Hub
2018-19 Associate Ensemble in Residence at Fine Music 102.5.
October 2019 – guest artists at Canowindra Baroque Fest
Media
"Masterful musicians at play in the creation of new works and soundscapes that feature and incorporate Jennifer Eriksson's electric viola da gamba. " (Loudmouth Magazine, July 2019)
"The night ended with a strikingly beautiful version of e.s.t.'s 'Belief, Beleft, Below' and everyone went home feeling very happy, having heard a winning combination of delicate melodies and fat grooving tunes played by some pretty amazing musicians. Highly recommended indeed." (AustralianJazzNet October, 2019)
"Here was a head-spinning dialogue between half a millennium ago and now, and a sound as foreign as dreaming someone else's dreams. It emanated from Jenny Eriksson's electric viola da gamba, the only example in Australia." (Sydney Morning Herald May 2017)
"The electric viola da gamba sound combined very well with the soprano and alto saxophones played by Matt Keegan and throughout the program the two instruments often played well-blended duets…this inventive program traversed some widely separated musical styles and was warmly received by the sizable audience." (Sounds Like Sydney, January 2017)
"McMahon's "For Thomas Wyatt," the 16th century innovative English lyrical poet, courtier and lover of Anne Boleyn, is eloquently elegiac, its melody Celtic, its tone dark; electric viola da gamba, piano and bass guitar in melancholy embrace…" (Real Time Arts, Dec 2014)
Elysian Fields is
Susie Bishop – vocals and violin
Matt Keegan – saxophones
Matt McMahon – piano
Jenny Eriksson – electric viola da gamba
Siebe Pogson – bass guitar
Dave Goodman – drums