Elysian Fields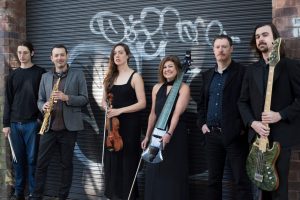 Elysian Fields was formed by Jenny Eriksson, Matt Keegan, and Matt McMahon in 2015.  The band is an ongoing experiment in creating new improvised and composed repertoire for the electric viola da gamba – of which Eriksson is believed to be the only Australian exponent. The band has released two CDs: "What should I say" and 'Fika". Both stream on major platforms and can be purchased on this site or via Buywell Music and Bandcamp.
The backbone of Elysian Field's set list consists of original works written specifically for the line-up by Matt McMahon, Matt Keegan, Jenny Eriksson and founding bassist, Siebe Pogson, along with arrangements and originals by Susie Bishop and, more recently, Dave Goodman.  The band's covers range widely from Eriksson's unique arrangements of several songs by Marin Marais to charts and folk song arrangements by Susie Bishop and Jenny Eriksson reflecting Jenny's Scandinavian heritage, to the likes of Swedish jazz/fusion guitarist, Mats Norrefalk, e.s.t. and Norwegian pianist/composer, Jan Gunnar Hoff. More recent commissions include works by renowned Australian composer, Gordon Kerry, and Sydney-based Alice Chance.
Elysian Field's influences are as broad as its member's eclectic interests and include e.s.t., Herbie Hancock, Jaco Pastorius, Tord Gustavson, Victor Wooten, Mats Norrefalk, Jean-Luc Ponty, Weather Report, Mara!, traditional Indian music, Irish and Swedish folk song, Jordi Savall, Marin Marais, John McLauglin, Steve Hunter, Pat Metheny, Jan Gunnar Hoff and Joni Mitchell.
Key achievements
In 2015 Elysian Fields appeared live on Radio National's "The Music Show" and were interviewed by host, Andrew Ford

In January 2017, Elysian Fields performed alongside Eriksson's acoustic viola da gamba band, "The Marais Project" which was the first gig of its kind in Australia where acoustic and electric viola da gamba ensembles appeared on the same program

In May 2017, the band were guest artists at the "Vivid New Music at the Con" series curated by Dr Damian Ricketson 

September 2017, partly supported by a crowdfunding campaign, the ensemble went into the studio to record their first CD

November 2017, Sydney International Women's Jazz Festival

Noted in the Sydney Morning Herald, January 2018, as one of critic John Shand's 2017 "surprise packets"

January 2018 appeared with early music gurus "The Marais Project" in a joint performance titled "My Heart So Grieves" which explored music and poetry of the 16

th

century using the acoustic and electric viola da gambas

June 2018 – Associate Artists in Residence at radio station Fine Music 102.5

October 2018 – released "What Should I Say", Australia's first electric viola da gamba CD. Featuring original Australian compositions by Matt Keegan, Matt McMahon and Siebe Pogson.

July 2019 – solo appearance at The Blue Mountains Hub

October 2019 – appeared at Canowindra Baroque Music Festival

May 2020 – released 'FIKA", the band's second CD

November 2020 – two performances as part of the Sydney Women's International Jazz Festival
Media
It's the quality of the music – a compelling mixture of Scandinavian folk, classical and jazz influences – that really compels… It's a wonder and a pleasure to watch a band able to conjure such a dark, introspective feeling in the room.

(Jacob Stone, Limelight Magazine, November 2020)
The source material is often exquisite, and the arrangements deft

. (John Shand, Sydney Morning Herald, October 2020)
The music speaks of passion and the human condition. It is a triumphant merger of the baroque period viola da gamba, a sublime soprano voice and other instruments often associated with jazz.

(Robert Vale, Fine Music Magazine, July 2020)
"What Should I Say

offers so much to the listener, conjuring a range of emotions and summoning long forgotten memories. These are musicians at the top of their game blurring musical boundaries, bringing the past into the present and taking it back again. This album is a perfect melding of baroque and jazz with many other musical elements and traditions brought into play."

(Loretta Bernard, AustralianJazzNet, March 2019)
"Masterful musicians at play in the creation of new works and soundscapes that feature and incorporate Jennifer Eriksson's electric viola da gamba." (

Stuart Vandegraaff, Loudmouth Magazine, 2019)
"Here was a head-spinning dialogue between half a millennium ago and now, and a sound as foreign as dreaming someone else's dreams. It emanated from Jenny Eriksson's electric viola da gamba, the only example in Australia."

(John Shand, Sydney Morning Herald May 2017)
"The electric viola da gamba sound combined very well with the soprano and alto saxophones played by Matt Keegan and throughout the program the two instruments often played well-blended duets…this inventive program traversed some widely separated musical styles and was warmly received by the sizable audience."  (

Larry Turner, Sounds Like Sydney, January 2017)
Elysian Fields is
Susie Bishop – vocals and violin
Matt Keegan – saxophones
Matt McMahon – piano
Jenny Eriksson – electric viola da gamba
Jacques Emery – double bass
Dave Goodman – drums