Featuring the world premiere of 'Christchurch Monody' by Gordon Kerry. 3pm Sunday May 16, 2021, Mosman Art Gallery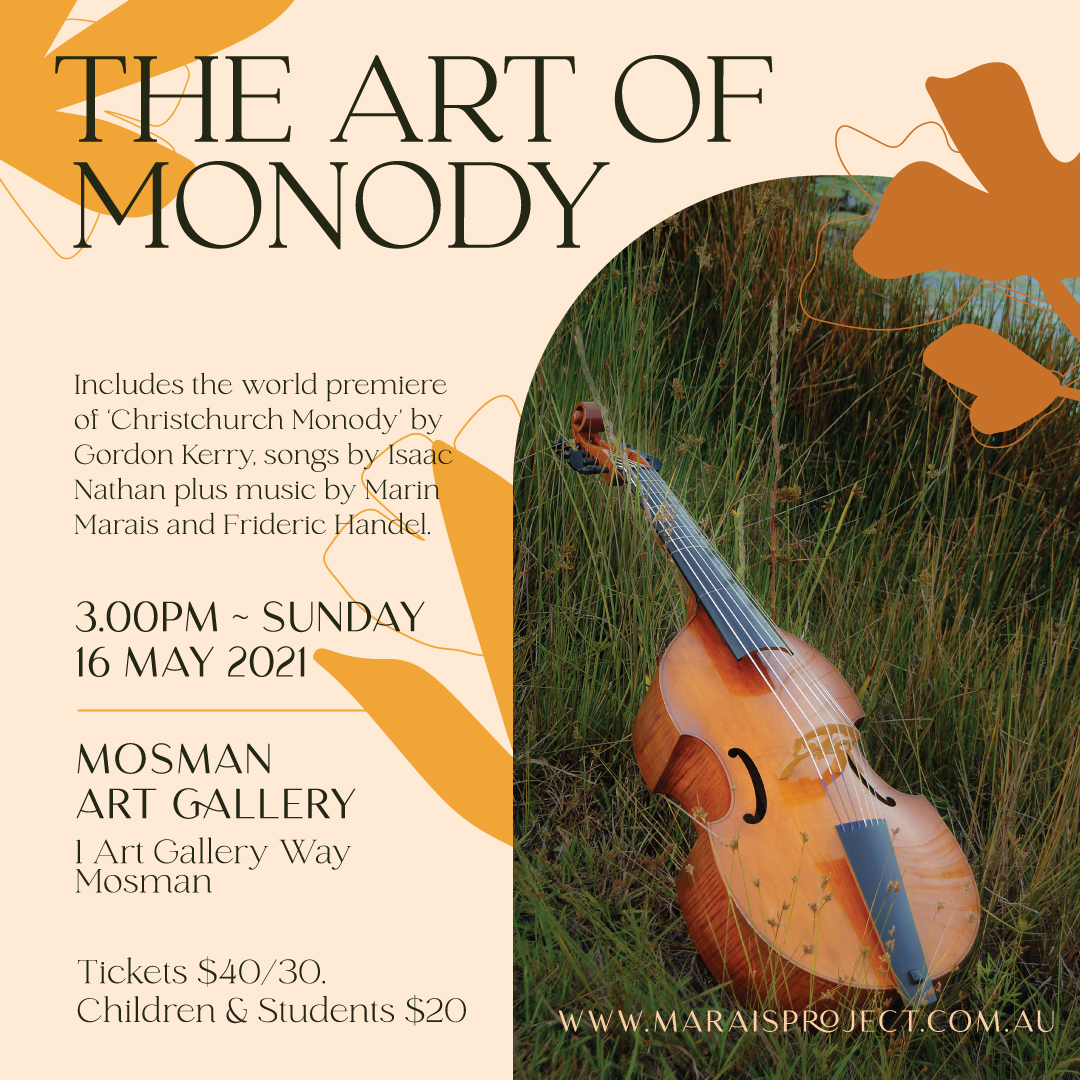 For more than 30 years now I have been exploring the music of the French baroque, and particularly the music of that era written for the viola da gamba. This is not the kind of artistic passion that brings with it a huge audience, but it is my calling!
Although I trained in Europe, I live in Australia and I have always sought to engage with my country of origin and the music of our times, not just that written hundreds of years ago. I am part of the Historically Informed Performance (HIP) movement, but I also look beyond it. This is the case with my acoustic ensemble, The Marais Project, my electric viola da gamba band, Elysian Fields, and with my Music Viva in Schools group, Da Vinci's Apprentice. The latter, for example, tours a musical theatre work for children composed by the Australian composer, Sally Greenaway, and performed on historic instruments – cornetto, theorbo, and viola da gamba.
Our next Marais Project concert, 'The Art of Monody' reflects my approach to the blending of old and newer music. The title refers to a work written for us by Australian composer, Gordon Kerry, titled 'Christchurch Monody.' The piece is a setting of texts from the books of Ecclesiastes from the Old Testament. Christchurch Monody is, according to Kerry, 'A response to several recent appalling acts of violence.' We were supposed to premiere this important piece in 2020 but our season was cancelled.
(Tickets for May 16 can be purchased here – https://events.humanitix.com/marais-project-or-the-art-of-monody)
What is monody? Today we take the dominance of the solo voice for granted but it was not always so, in art music at least. Around 1600 Italian composers decided to break free from composing polyphony (complex music for many voices, often written for the Church) and started to write for a single voice with instrumental accompaniment. This new style of music was called monody, 'mono' meaning one voice. It was the beginning of opera as we know it, but it was also the commencement of the kind of songcraft that developed during the baroque and classical eras and continues to this day. All of the songs we perform on May 16 are examples of monody.
Gordon Kerry's world premiere is not the only Australian work we are presenting. Also on the program are two songs by Isaac Nathan – the early 19th century father of Australian music – called 'The Aboriginal Mother' and 'The Aboriginal Father.' These powerful songs, settings of poems by Eliza Hamilton Dunlop, channel the agony of two Wirrayaraay parents whose children and families were killed in the Myall Creek massacre. This event, which is still not widely known of, involved the murder of at least twenty-eight unarmed Wirrayaraay by twelve settlers on 10 June 1838 at the Myall Creek near the Gwydir River, in northern New South Wales. After two trials, seven of the twelve were found guilty of murder and hanged. One evaded arrest and was never tried.
The first stanza of the nine comprising the Aboriginal Mother is below:
Oh! hush thee — hush my baby,
I may not tend thee yet.
Our forest home is distant far,
And midnight's star is set.
Now, hush thee — or the pale-faced men
Will hear thy piercing wail,
And what would then thy mother's tears
Or feeble strength avail!
After the poem was published in 1841, it was criticised by the newspaper, the Sydney Herald. In response, Dunlop wrote to the editor explaining why she felt her views were correct. This would not the first or the last time that those who dared shine a light on injustices to Aboriginal peoples were taken to task in the media. The Aboriginal Mother was first performed in October 1841 by Isaac Nathan's daughter, Rosetta,
At 'The Art of Monody' I will also give the live premiere of Paul Cutlan's 'Sarabande', which appears on The Marais Project's new 'Two' recording. (Two can be streamed on Spotify here – https://open.spotify.com/album/0r4H3CiVCiAxOh89WUNNJz?si=gz0d4A_pQFOvkEnGJLo93w)
Early music is NOT neglected, however, and never will be at a Marais Project performance. There is a suite by Marin Marais, an aria by the Italian master, Monteverdi, as well Tommie Andersson's arrangement for gallichon (bass lute) of pieces from Handel's 'The Musical Clock' which can also be heard on 'Two.' We close with Llew and Mara Kiek's version of 'The Streets of Forbes' which we commissioned years ago. This folksong tells the story of the infamous Australian bushranger, Ben Hall and fits nicely with Nathan's songs.
I realise that this is not a conventional early music concert, but then we are not living in conventional times!
Jenny Eriksson. The Marais Project – May 3, 2021
Artists: Susie Bishop, voice & violin; Tommie Andersson, lutes; Jenny Eriksson & Cathy Upex, viola da gamba