Jennifer Eriksson completed her initial musical studies at the then NSW State Conservatorium of Music studying music education and cello with Barbara Woolley. Her first viola da gamba lessons were undertaken with Catherine Finnis in Sydney. She subsequently studied the viola da gamba with Jaap ter Linden at the Rotterdam Conservatorium for three years where she completed post-graduate studies in baroque music. She formed The Marais Project in 2000. Jennifer also directs the Musica Viva in Schools ensemble, Sounds Baroque. She was a founding member of the viol consort, "Seaven Teares" and in collaboration with renowned jazz musicians Matt McMahon and Matt Keegan, she assembled "Elysian Fields", Australia's only electric viola da gamba group, in 2015.
Since returning to Australia from Australia in 1988 Jennifer has performed with the Australian Chamber Orchestra, the Victorian State Opera Orchestra, Salút Baroque, Opera Australia, the Renaissance Players, The Early Dance Consort, The Sydney Consort, Sydney Chamber Choir, The Parsons Affayre and numerous other ensembles.
Jennifer created The Marais Project with the aim of performing the complete works of the French baroque viola da gamba virtuoso, Marin Marais, a task that is more than 85% completed. As well as presenting an annual concert series, The Marais Project has performed live on several occasions for the ABC's "Sunday Live" broadcasts, Radio National's "The Music Show" and recorded studio concerts for ABC Classic FM. The ensemble released its first CD, "Viol Dreaming", in October 2007. Their second CD "Love Reconciled" came out in 2010 to critical acclaim. In 2012 The Marais Project and Mara! produced a joint CD, "Mara! meets Marais".  2013 saw the release of "Lady Sings the Viol", a unique compilation of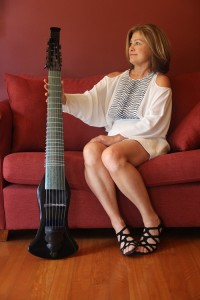 "covers" of songs from the 1300 to the present day.  In 2015 The Marais Project released its 5th CD, "Smörgåsbord!" which explores Jennifer and lutenist Tommie Andersson's Swedish heritage.
In addition to her focus on the early music repertoire, Jenny has commissioned more than 20 new Australian works for the viola da gamba including an Australian first work for viol consort and bass clarinet composed by Paul Cutlan and several new works for the electric viola da gamba by jazz composers Matt McMahon, Matt Keegan and Siebe Pogson.
Jenny was invited to take up a prestigious Winter Residency at Banff Arts Centre, Canada in early 2013.  Her other ensemble, "Sounds Baroque" has previously been in residence at Bundanon Trust on the New South Wales' south coast. During 2014 she was a soloist with the Singapore Symphony Orchestra in that country's first ever complete performance of Bach's St John Passion.  In 2015 Jenny toured The Marais Project to the New Zealand International Early Music Festival in Dunedin.