New CD Available Now
---
Celebrating 18 Years of Presenting Fine Music for the Viola da Gamba
The Marais Project – Directed by Jennifer Eriksson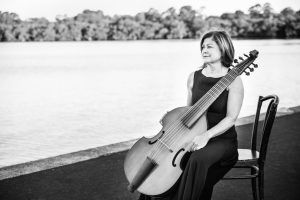 ---
In 2017, The Marais Project returns to The Independent, North Sydney, for three fabulously diverse events, its 18th year of creative concert-giving.   Since its founding by Jennifer Eriksson in 2000, The Marais Project has released 5 CDs, three of which have been selected as "CD of the Week" on ABC Classic FM. A 6th CD will appear in 2017. The group regularly features in national and local studio broadcasts and radio interviews. They have performed across Eastern Australia and as guest artists in New Zealand.
Concert I: "It Takes Two" – In an Australian first, Jenny will perform on both the acoustic and electric viola da gambas in single concert. In the first half, she will be joined by Australia's finest lutenist, Tommie Andersson, and long term Marais Project soprano, Belinda Montgomery for music by Marais, John Dowland and much more. After the interval, her electric viola da gamba ensemble, Elysian Fields, will take the stage and concert-goers will revel in the gorgeous and sophisticated sounds of this country's only electric gamba ensemble. Elysian Fields features saxophonist, Matt Keegan and pianist, Matt McMahon, two of Australia's most celebrated jazz musicians.
Details: 3.30pm, Sunday January 29, The Independent, Miller St North Sydney
Tickets: http://www.theindependent.org.au/
Concert II: "Marais meets Muffat" – Composer, professor of rhetoric and traveller, Georg Muffat was the ideal seventeenth-century humanist and gave his name to The Muffat Collective, an exciting new early music ensemble. In a concert co-directed by Anthony Abouhamad, The Muffat Collective and The Marais Project will present a rare performance of a Suite for viola da gamba and strings by Georg Philipp Telemann. This is a wonderful opportunity to hear the viol and violin family together on stage.
Details: 3.30pm, July 16, 2017, The Independent, Miller St North Sydney
Tickets: http://www.theindependent.org.au/
Concert III: "A Christmas Adventure!" – What do you get when you cross one of Australia's leading baroque music ensembles with two of Australia's most creative young musicians? The answer is an adventure! A Christmas musical adventure. Classically trained in Australia and Europe, our special guests Emily-Rose Šárkova and Susie Bishop fuse the discipline of classical music with the passion, fire and freedom of tango and world music. Hear rare Christmas music from around the globe, Šárkova's arrangement of Marin Marais for viola da gamba and piano accordion and much more. There will be fine music and fun for the whole family all in the very special atmosphere The Independent offers patrons.
Details: 3.30pm Sunday December 17, The Independent, Miller St North Sydney
Tickets: http://www.theindependent.org.au/